It's no coincidence that I have been back for over a week and still have yet to post a thorough blog about my time in India.
As a writer, India presented a tangible challenge. How does one convey the power of the images, smells, and emotion captured in a place that saturates the senses in all these ways? India led to some of the best photography I have taken, to date, as you can observe throughout this blog. I also have video footage that I will be spending the next few weeks making heads and tails of for upcoming episodes of Nomad•ness. Overwhelmed with wondering how I was to relay the information of this trip, it wasn't until I started giving slide presentations to my schools in Japan, as a final lesson, that I got the energy and insight to push it out. The look on these children's eyes when I show them photos of me covered in the colors of Holi, or riding a camel, or kids their age too poor to go to school. They get it, and for a moment I see their eyes open beyond Japan. I want to influence everyone I meet enough to make them get over the fear, and get on the plane. This was my journey...
India.
The memoir will most definitely retain the details of my travels, but here I offer some photos as navigation through the most uncomfortable, scary, dirty, invigorating, and rewarding experience of my life. I thought living in Japan for a year made me a warrior. Little did I know what India had to offer.
The ten day trek took Melissa, Stephanie, and I through New Delhi, Jaipur, Pushkar, and Agra. We stayed in the North, venturing locally on buses and trains in the uncomfort of stares, being followed, and constant invasion of personal space. The ratio of men to women, outside, is highly uneven and it is not uncommon to find yourself surrounded by gazing men offering you rides, deaf to the word "No."
Northern India is also knows for being cultural, yet extremely poverty plagued. The South is known more so for the cleanliness, tourists, and resorts. Needless to say, I am happy we ventured in the North first.

They live the way they must. It is the begging of the children that tears you to pieces, but there is a silent understanding.
Five of our ten days we spent in Jaipur, celebrating Holi Festival of Colors, becoming masked by vibrant paint powder colors. The Elephant Festival was amazing, even after I drew a crowd of laughing male faces at my attempts to get on top of a horse. Good times.
Holi was one of the best days of my life, and Stephanie's 30th birthday. Mayhem, chaos, alcohol, and all of us in a humvee were the symbols of the day. We started by braving the Jaipur streets with our new friends and 'bodyguard' and we ended it in a private party hosted by Jaipur's elite, inside the garden of an old palace. The day was a real life fairy tale.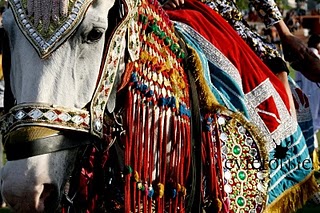 We continued through Jaipur onto the Amber Fort where we were surprisingly greeted by a snake charmer. All three of us took the charmer's word for it, stating that the snake wasn't poisonous, and touched the cobra. My brother would have been proud. When in Rome...right? There were elephants, monkeys, pigs, buffalo, and camels everywhere. Over dinner in the desert I had a monkey scare the hell out of me while I was eating outside, only for it to get into a fight with a cat. I cannot make this stuff up.
We intended to spend three days in Agra, but as per everyone's recommendation, it was too long. Agra also proved to be the dirtiest of the places we went so within twenty-four hours we got there and left, walking away from our hotel payments and all. Though the city left much to be desired, it was here I saw my mecca and the reason why I ventured to India in the first place.
Taj Mahal. The most epic representation of love.
We even saw Japanese people there, something that makes me feel very much at home now. How ironic?!
In leaving Agra, we rerouted for the unplanned part of the itinerary, Pushkar aka the desert aka Little Israel. It's a bit of a hippy town packed right in the middle of the desert and steep hills. We spent two days in Pushkar doing cheap shopping, gawking at the fine Israeli that ran the Internet Cafe, fighting off pink lizards and stomach issues, while riding camels for hours. It was here I met my 10 year old camel guide, the most fascinating young man I have met in my life.
Leaving Pushkar, I headed back to Japan to conclude my year long journey there, and my fellow travelers flew to South Africa.
Sugoy! Amazing!
If it seems as though I am recalling events, yet not emotion, it is because I still am. I am still searching for the right words to formulate the right sentences, to spit out all that I have in.
I am forever grateful for India. If for no other reason, I know I can sleep anywhere and find some comfort. If for nothing else, because even at my worst, I have so much more than those in the Northern part of their country. In its ugly, I find such a raw beauty. I look forward to the day I find the words...the memoir is going to be amazing.
Loving my life!